---
Resources for Training & Aquatic Centres
Date: 19 May 2020
Royal Life Saving is pleased to provide the following resources for the aquatic industry:
Please also refer to the documents below.
---

Frequently Asked Questions about Resuscitation during COVID-19 Pandemic
Date: 19 May 2020
The Australian Resuscitation Council recognises the ethical dilemmas created by attempting to balance the needs of rescuers to avoid COVID-19 infection and potential negative impacts on the collapsed person caused by changes to the resuscitation process.
Download the
ARC Frequently Asked Questions here
.
---
Updated Note on COVID‐19 Advice for Aquatic Industry and Swim Schools
Date: 14 May 2020
Royal Life Saving continues to closely monitor the COVID‐19 Pandemic through official sources, including the Australian Government Department of Health, and State/Territory Government Departments of Health.
Royal Life Saving has updated its CEO note on COVID‐19 Advice for Aquatic Industry and Swim Schools.
This statement has information on mapping swimming and water safety programs and other aquatic activities to the Australian Institute of Sport (AIS) Framework for rebooting sport
Download our statement
here.
Note: This position is current as at 10am (AEST) on 14 May 2020
---
Update to GSPO for COVID-19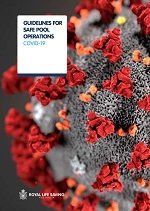 Date: 13 May 2020
The new guidelines now form part of the
Guidelines for Safe Pool Operations (GSPO)
and provide specific advice to owners and operators of aquatic facilities on how to manage the risk of COVID-19 as they look to reopen their businesses in the near future. Craig Roberts, the National Manager of Operations for RLSSA and Chair of the NAISC, said "This nationally agreed guidance is to be welcomed in these uncertain times, and gives the aquatic industry sector a consolidated and consistent roadmap to managing the risks associated with COVID-19."
Royal Life Saving is providing this chapter of the GSPO free of charge.
Click here to lean more
---
Royal Life Saving Statement on COVID-19 and the Aquatic Industry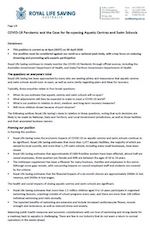 Date: 30 April 2020
It is a question everyone is asking:
when can aquatic centres and swim schools safely reopen?
Balancing public health measures and economic considerations with our love of swimming is clearly challenging. Our commitment to industry remains steadfast, but of course community safety is paramount.
Read Royal Life Saving's recommendations and suggested roadmap to recovery at:
---
Royal Life Saving Launches Water Safety Activities for Kids
Date: 21 April 2020
Royal Life Saving has some excellent educational resources that can be used by parents and teachers for Health and Physical Education and cross-curricula learning outcomes.
These will aid students in developing their knowledge and understanding in swimming and water safety as well as basic lifesaving and emergency care. Access to these resources are
FREE OF CHARGE
and can easily be distributed to students, shared online, downloaded or used via our e-learning platform.
Teacher guides, instructions and additional information is provide to help teachers and parents use these resources effectively.
---
Out of Hospital Cardiac Arrest Guidance during COVID-19 (Coronavirus) Pandemic
Date: 22 March 2020
The
Resuscitation Council (UK)
have released a video guide for out of hospital cardiac arrest and provision of CPR during the COIVID-19 pandemic.
Many people are concern about the risk of transmission of COVID-19 (Coronavirus), but we wish to emphasise the crucial importance of doing CPR for the person in cardiac arrest.
We also suggest that you carry PPE (a disposable CPR mask and gloves) with you during this time. Don't forget the first step in CPR is to check for
D
anger and remove unreasonable risks to you, the patient and bystanders. This could be by using PPE and following the advice in the video.
Remember, the
Australian Resuscitation Council
say
"Any Attempt at Resuscitation is Better Than No Attempt"
.
---
Royal Life Saving Statement on COVID-19 and Swimming Pool Closures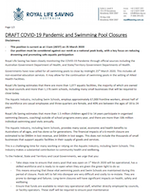 Date: 25 March 2020
Royal Life Saving has issued a
National Statement
on Swimming Pool Closures following the statement of the Prime Minister, Hon Scott Morrison MP on 24 March 2020.
Governments have now called for all swimming pools to close by midnight 25 March 2020. This includes all non‐essential education services. It may allow for the continuation of swimming pools in the setting of Allied Health Facilities.
Download our
Statement here
.
This statement is current as at 11am on 25 March 2020.
---
Royal Life Saving Courses
Date: 24 March 2020
Due to the COVID-19 pandemic, we are not presently delivering courses. Please continue to enquire with us if you require training, you can
Contact Us
by telephone (07) 3823 2823 (during normal business hours) or email (
admin@rlssq.com.au
).
Our office remains open between 9am and 5pm weekedays, however we are operating on essential staff only so it may take some time to repond to your enquires. Thank you for your understanding. Please check our website and
facebook
page for updates.
This statement is current as at 3pm on 24 March 2020.
---
Position Statement on Re-Accreditation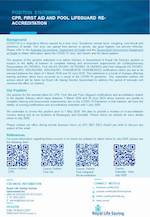 Date: 24 March 2020
Royal Life Saving has issued a
Position Statement
on the re-accreditation of Lifeguard who work in the aquatic industry. The renewal dates for CPR, First Aid and Pool Lifeguard certifications and accreditation related to the Aquatic Industry which lapse between 1 March 2020 and 30 June 2020 where trainees are unable to complete training and assessment requirements due to the COVID-19 Pandemic is that trainees will have the validity of existing certifications and accreditations extended until 1 July 2020.
We undertake to review this position prior to 1 May 2020. We plan to provide a number of re-accreditation courses during July at our locations at Burpengary and Gumdale. Please check our website for more details closer to July 2020.
Download our
Position Statement here
.
---
COVID-19 Pandemic and its impact on Aquatics
Date: 18 March 2020
Royal Life Saving has issued a
Statement
in respect to the COVID-19 Pandemic and its impact on the Aquatic Industry.
Please
download and view
our statement, which must be considered against our remit as a national peak body, with a key focus on reducing drowning and promoting safe aquatic participation
This position is current as at 4pm (AEST) on 18 March 2020.
---