Royal Life Saving Society Queensland Inc is a
Registered Training Organisation RTO Number 5431
. We offer a number of Nationally Accredited Training Courses. A summary of our main courses is provided below.
---
Cert III and Cert IV in Swimming Pool & Spa Service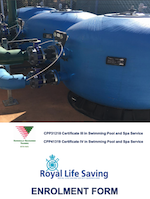 Royal Life Saving is offering the following courses:
CPP31218 Certificate III in Swimming Pool and Spa Service
CPP41319 Certificate IV in Swimming Pool and Spa Service
View the Course Brochure
here
which includes more details and information about the course.
This course complies with our
Position Statement
in respect to the qualifications required when operating a commercial aquatic facility. This statement is a result of the release of Queensland Healths
water quality guidelines for public aquatic facilities
(dated December 2019). The purpose of the guideline is to reduce risk to public health and the focus is on water quality associated risks.
---

Course Dates:
Monday 30 November 2020 to Wednesday 9 December 2020.
The course is subject to minimum number which will be confirmed one week before course commencement.

---

Venue:
The Plantation
1204 New Cleveland Road, Gumdale QLD

---

Cost:
$3,600.00 (including GST)
However 10% discount (so the course fee will be $3,240.00) if paid upfront

---

Enquire:
Download the course enrolment form here, complete the form and send it to us.
We will contact you following receipt of the form and discuss the course with you.
---
To book in a course, or to enquire about a course you can either here:
Enrol in a Course
OR
Enquire about a Course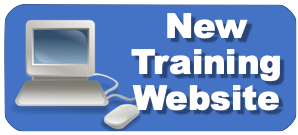 Click here to search or register for a course
using our new training website
Please view our course outline using the links below, which provides more information about our courses:
Course
Course Outline
Units of Competence
Our Main Courses
Cardiopulmonary Resuscitation
Course Outline
HLTAID001 Perform Cardiopulmonary Resuscitation
First Aid
Previously referred to as Senior First Aid
Course Outline
HLTAID001 Perform Cardiopulmonary Resuscitation
HLTAID002 Provide Basic Emergency Life Support
HLTAID003 Provide First Aid
First Aid in an Education & Care Setting
Course Outline
HLTAID001 Perform Cardiopulmonary Resuscitation
HLTAID002 Provide Basic Emergency Life Support
HLTAID003 Provide First Aid
HLTAID004 Provide an Emergency First Aid Response in an Education and Care Setting
Bronze Medallion ®
Course Outline
HLTAID001 Perform Cardiopulmonary Resuscitation
SISCAQU002 Perform Basic Water Rescues
Pool Lifeguard Award
Course Outline
HLTAID001 Perform Cardiopulmonary Resuscitation
SISCAQU002 Perform Basic Water Rescues
SISCAQU006 Supervise Clients in an Aquatic Facility or Environment
SISCAQU007 Perform Advanced Water Rescues
PUAEME001 Provide Emergency Care
PUAEME003 Administer Oxygen in an Emergency
Pool Plant Operations
Course Outline
SISCAQU001 Test Pool Water Quality
SISCAQU003 Maintain Aquatic Facility Plant and Equipment
SISCAQU004 Develop and Implement Pool Water Maintenance Procedures
SISCAQU005 Develop and Implement Aquatic Facility Maintenance Procedures
BSBRSK401 Identify risk and apply risk management processes
Re-Accreditations (Completed within 15 months of prior course)
Bronze Medallion ® Re-accreditation
Course Outline
HLTAID001 Perform Cardiopulmonary Resuscitation
Pool Lifeguard Update
Course Outline
HLTAID001 Perform Cardiopulmonary Resuscitation
PUAEME001 Provide Emergency Care
PUAEME003 Administer Oxygen in an Emergency
Other Courses
Aquatic Supervisor
Course Outline
HLTAID001 Perform Cardiopulmonary Resuscitation
SISCAQU002 Perform Basic Water Rescues
Hydrotherapy Rescue
Course Outline
HLTAID001 Perform Cardiopulmonary Resuscitation
SISCAQU002 Perform Basic Water Rescues
Oxygen Equipment Resuscitation
Course Outline
HLTAID001 Perform Cardiopulmonary Resuscitation
PUAEME001B Provide Emergency Care
PUAEME003C Administer Oxygen in an Emergency Situation
Low Voltage Rescue
Course Outline
HLTAID001 Perform Cardiopulmonary Resuscitation
UETTDRRF06 Perform Rescue form a Live LV Panel
Click here to view Our Course Calendar

Code of Practice Course Terms and Conditions Student Handbook More Resources & Materials