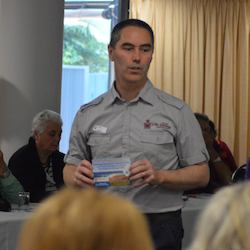 Trainers Workshops
All trainers are invited to register for our up coming workshops.
Click here
to register. These workshops will focus on
CPR
and
First Aid
, particularly for those who deliver competency based first aid training.
We are also taking expressions of interest for running a workshop in various regions (including rural and remote regions) around Queensland. We can run these workshop in conjunction with a Swim & Survive workshop, or a training course/update to make them cost effective. Please fill in the registration form or
contact us
to see if we can assist in this regard.
Click here to register
---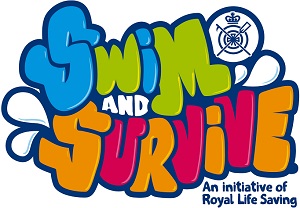 Swim & Survive
Is your school registered for the Swim and Survive program? Did you know the Swim and Survive program is essentially free of charge?
We provide partners free lesson plans, certificates and support to deliver the swim and survive program. Your school can register to deliver the swim and survive program
here
. You can also get free resources
here
.
Swim and Survive FREE workshops
We are planning a number of
free
workshop throughout the state. You can register for the workshop or express interest in future workshops
here
.
Have more questions, why not
contact us
.
The Swim and Survive Program is proudly supported by the Queensland State Government
---
Drowning in Queensland
During the 2016/2017 year,
73 people drowned
in Queensland waterways. The breakdown of these drownings are show in the graph below.
The 2016/17 result is an increase of 5 death (7%) on the ten year average of 68 deaths. Of the people that drowned, 68% were male.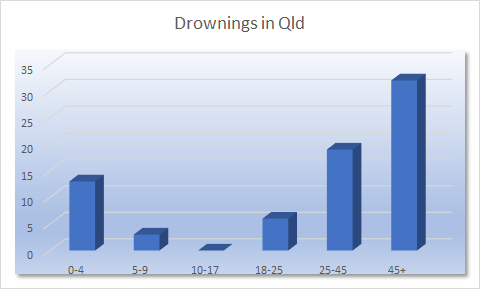 13 drownings occurred in the agre group under 5 years (about half of these were in backyard pools)
3 drownings occurred in the age group 5 to 9 years
No drownings occurred the age group 10 to 17 years
6 drownings occurred in the age group 18 to 25 years
19 drownings occurred in the age group 25 to 45 years
32 drowning occurred in the agre groups 45 years and over
How can you help reduce drowning?
In the under 10 years age group:

Constant active adult supervision. In almost all drownings in this age group, active adult supervision had lapsed or was entirely lacking
Fence the pool and any waterway around children
Teach kids water safety and how to swim & survive


Swimming and survival lessons are an important part of the strategy to prevent drowning, but not the single solution. Royal Life Saving has a fantastic Swim & Survive program (also called Love-2-Swim) which is provided free of charge to registered providers in Queensland. More information can be obtained at this link here



In the over 14 years age group, teach kids and adults how to swim, survive and rescue. We recommend a Bronze Medallion Course which teaches swimming, waters safety and general rescue skills. You can enquire or enrol in a Bronze Medallion course now, click here to enquire.
Source:
National Drowning Report 2017
National Drowning Report 2017, Queensland Extract
NEWS
---
SOCIETY HONOURS
Are you aware of any Society member who has gone above and beyond that which is required of an ordinary member, if so, please nominate the member for Society Honours using the forms below. Nomination close 1 May 2018. All nomination need to be sent to the Queensland Office for endorsement.
Click here for the Honours Handbook
Nomination Form - Commonwealth Honours
Nomination Form - Australian Honours
Information Sheet:
Sequence for Honours
---
NEWSLETTER
Please download our March 2018 Newsletter
here
.
View older newsletter
here
.
Click
here
to subscribe to our mailing list.
---
TRAINERS WORKSHOPS
Competency based trainers, please register for for our up coming workshops
here
which will focus on CPR & First Aid. You can also register interest for a workshop in your area.
---
LET US KNOW
Has a staff member of the Society provided you excellent service? If so, please let us know by filling in
this
online form.
---
Pool Plant Operator Course
Pool Plant Operator courses $540
Thursday 21/6/2018 & Friday 22/6/2018
Click
here
to register or enquire
Course Brochure
.
---
Primary and Secondary School Life Saving Championships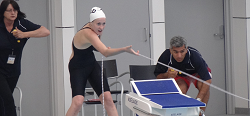 The Royal Life Saving Primary and Secondary School Championships are being held on
Sunday 29 April 2018
at Somerville House. Download a brochure and registration form from the below links:
Brochure
Secondary School Entry Form
(8.45am to 12pm)
Primary School Entry Form
(1pm to 3.30pm)
---
PUBLIC COURSES
We are now holding public courses at Burpengary. Click
here
to find out course dates and more information.
---
ONLINE FEEDBACK
Please let us know your feedback (good or bad).
Click
here
to fill out an online form.
---
MEMBERSHIP FORMS
Commercial Trainer 2017/2018
click here for CBT Trainer Terms & Conditions 2017-2018
Member or Recreational Trainer 2017/2018
Lifeguard League Membership Application 2017/2018
---